Pineapple is a very common fruit in Vietnam, used directly or processed into smoothies, juices, or canned in the form of slices or pieces. This fruit is also a great ingredient for cooking. Pineapple has eye nods all over, yellow flesh, sweet and sour taste and high organic acid content. This fruit is considered a rich source of manganese, vitamins C & B1, and they add many good minerals to the body.
There are three popular pineapple varieties being produced in Vietnam at present, namely: QUEEN, CAYENNE and MD2.
Pineapple QUEEN is the most popular variety in Vietnam, grown from North to South, and suitable for the consumer tastes of the majority of Vietnamese people with outstanding characteristics of sweet, bright golden yellow color and very aromatic. The most recognizable feature of Queen pineapple is the tiny spine on the edge edge of the leaf.
A Queen pineapple when ripe usually ranges from 0.3 – 2.0 kg. Bright and solid yellow. We should choose the fruit at 0.8-1.2kg. The fruit is most delicious when peel and stem are fresh, the eyes are open, the pineapple is ripe yellow ½ fruit from the stem.
CAYENNE pineapple is the second most popular pineapple variety in Vietnam, produced in Tam Diep (Ninh Binh), Quynh Luu (Nghe An), Dak Lak, Don Duong (Lam Dong) Quang Nam… Harvest time is short, mainly from June to August.
The biggest advantage of this type is that it doesn'r cause thrush when eating a lot, shallow eye nods and thin skin. However, not many Vietnamese consumers like this pineapple because it has a slightly sour taste when it is not fully ripe and is not as fragrant as Queen pineapple. Flesh color is light yellow. A Cayenne pineapple usually has a weight of 1 – 3 kg. We should choose 1-2 kg pineapple, balanced cylinder, and ripe yellow ½ fruit.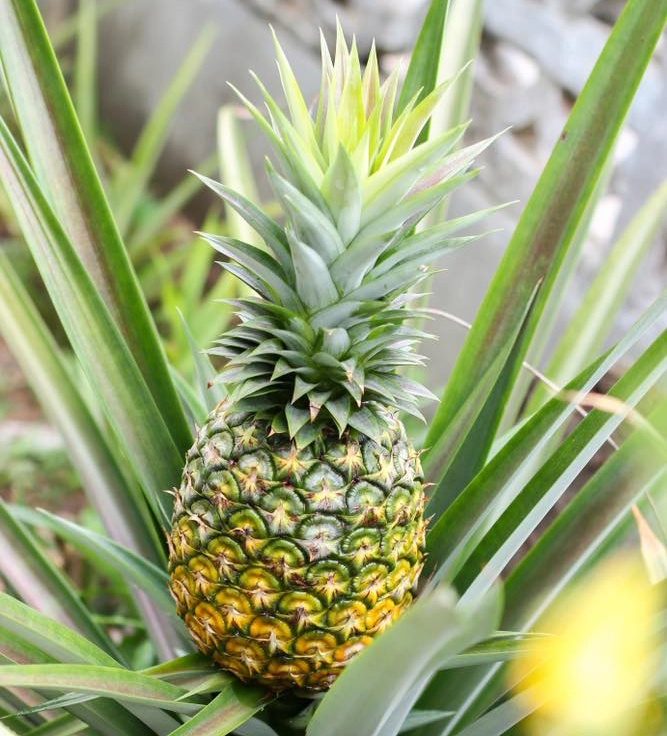 MD2 pineapple is a limited variety grown in Vietnam at present due to difficult and slow propagation. It is a selective cross between Queen pineapple and Cayenne pineapple, thus carrying most of the outstanding advantages of both parent varieties. It is sweet, aromatic, crispy and the flesh has a golden color. The fruit is large and has shallow eye nods. MD2 pineapple is one of the most popular fresh edible varieties in the world today.
MD2 pineapple is cylindrical fruit, dark green shoots; leaf margin without spines (like Cayenne). When ripe, the rind and flesh is bright yellow.