1. Tien Giang Province (about 14.8000 ha)
Pineapples are mainly planted in communes of Thanh My, My Phuoc, Hung Thanh, Thanh Tan, Thanh Hoa, Tan Hoa Dong, Tan Lap 1, Tan Lap 2 and Phuoc Lap of Tan Phuoc district with the area of more than 14,063 ha and annual output of approximate 244,000 tons following VietGAP Standard.
2. Kien Giang Province (about 10.000ha)
Tac Cau island and the surrounding areas along the Cai Lon and Cai Be rivers in Chau Thanh and Go Quao districts, which have alluvial soil and favorable climate conditions, have grown pineapples for over 70 years. The name of the island has become the brand of the south's tastiest pineapple with a delicate sweetness and special fragrance.
3. Hau Giang Province (about 1.600 ha)
Hau Giang Province has three specialty crops which are pineapples, sugar canes and cajuputs. Of these, Cau Duc pineapples have the highest economic value. It is not only famous in the domestic market but they have also been exported to Russia and other European countries.

Now, Hau Giang Province has about 1,500ha under pineapple cultivation, of which over 1,000ha belong to Hoa Tien and Tan Tien Communes. Thanks to the suitable soil conditions, the pineapple plants yield big and sweet fruit. In 2006, the trademark "Cau Duc Pineapples of Hau Giang" was recognized by the National Office of Intellectual Property of Vietnam.
4. Long An Province (about 1.000 ha)
Long An pineapple has a gentle sweetness, a little sourness and an attractive aroma that awakens all your senses.
While rich in fiber and energy, pineapple is low in fat and cholesterol, making it a great supplement that you should add to your diet to improve and maintain health. Pineapple contains manganese, a mineral needed by the body to build bones and connective tissue. Bromelain is an extract found in pineapple, which regulates the activity of the pancreas, aids in digestion
5. Thanh Hoa Province (about 3.789 ha)
Pineapples in Thanh Hoa are grown in Ha Trung districts, Bim Son, Tho Xuan district and Ngoc Lac district.
5. Ninh Binh Province (about 3000ha)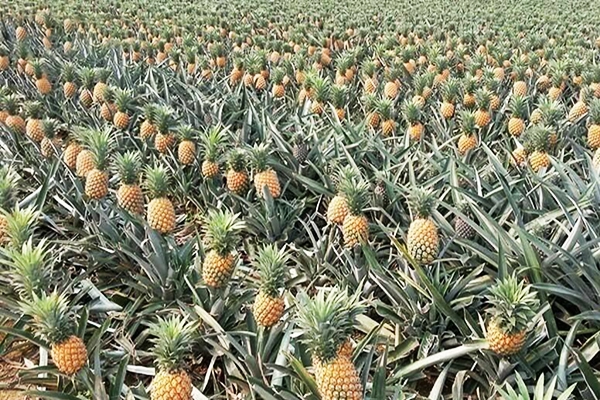 Dong Giao farm is also known as pineapple farm – a quite famous land of Tam Diep and ninh binh vietnam. It appeared with a picture like a romantic feng shui picture, green pineapple trees covered the basalt red soil roads. If you want to find a "green" place between the majestic mountains or a peaceful paradise for a beautiful "pictures" the pineapple farm