In Vietnam, pineapple cultivation is common, spreading throughout the country. Each area has its own particular fertile and climate, making the methods and the times for harvesting various among the North, the Middle and the South. In this post we are referring to the Queen pineapple – the most popular pineapple variety grown in Vietnam. Also, it's the most type that's our company uses for our popular soft dried pineapple.
When and How Farmers Harvest Their Pineapples
In the North, commercial pineapple is planted mostly in Ninh Binh, Ha Nam, Phu Tho. Pineapple plants are grown on gentle slopes with ferralsols base and average temperature of 20 – 20 degree C. When it's peak harvest time (usually falls from May to June), harvesters simply use a sickle or a sharp knife. This is to cut the fruit from the plant by where the pineapple joins the stalk, and put it in baskets. After that, they will load the pineapple fruits on a big truck for carrying to factories or wait for traders.
Growing pineapple in the Middle of Vietnam
In the Middle of Vietnam, Phu Yen, Nghe An and Thanh Hoa are the two provinces that provide plenty of pineapple fruits for the market. Farmers grow pineapple plants on high slopes with not very fertile soil. However, the fruit gives such irresistible aroma and unique flavor that is favored in the country. Under natural conditions, pineapple comes to harvest in two season: February and June (January and May in Lunar calendar). To facilitate the transportation of products during harvest, farmers invented a pulley system. It has winches hundreds of meters long connecting from the slopes to the ground.
Using water for collecting pineapple in the South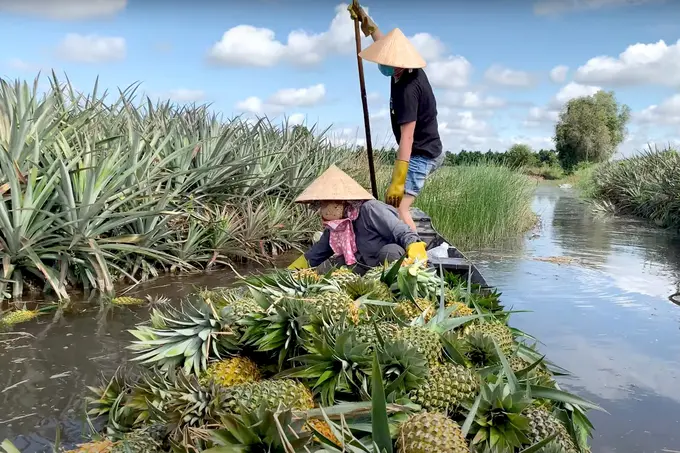 Kien Giang, Tien Giang, Long An, Hau Giang are provinces in the Mekong River Delta that grow a large amount of delicious and nutritious pineapple fruits in the South of Vietnam. The Queen pineapple is very nurtured and flourishes here thanks to the fertile acid soil and good climate. Starting from April and end after June in Lunar calendar, farmers using boats to get to every row in the pineapple farm. Then pick the right pineapple with their sickle, and drop the fruits on the canal for later collect.